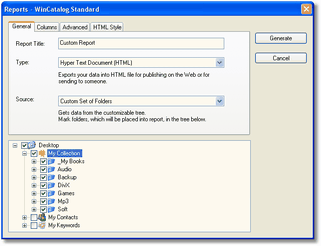 Select the Tools | Reports... menu item to bring up a report dialog box.
Type the report name in Report Title. It will appear in a report header.
Select type of the report:

Comma Separated Values (CSV) - Exports your data into a file where fields are separated by comma for furher opening in MS Excel or other application.
Hyper Text Document (HTML) - Exports your data into HTML file for publishing on the Web, printing or sending to someone.

Select Source:

Main Window List View - Gets data as it listed at the right part of the main window.
Search Rresults - Gets data from the search results. Note: this source is unavailable until you perform a search operation.
Custom Set of Folders - Gets data from tree appeared below the combobox. Mark folders which will be placed into the report.

Follow the Columns tab.
Select a column you want to sort items by. Note: it is not obligatory to include that column into the report (see next step).
Mark columns you want to be in report and set their order by using Move up and Move down buttons.
Follow the Advanced tab.
File size in the 'Size' column of the report will be displayed so as it is selected in the corresponding combobox.
Data separator for CSV - a symbol which will separate columns in the comma separated report. Note: this option has effect only on the CSV report.
Follow the HTML Style tab.
If you have done the customization, click Generate, select a report file name in the appeared 'Save report as' dialog and click OK.
The file specified on step 13 will be created. You can view it by using your favourite web browser.
The report dialog will be closed automatically on success.