WinCatalog 2020 is here!
Hello, we're glad to announce that a new major upgrade of WinCatalog was just released. The version number is 2020.1.
Faster Search
As we announced earlier, one of the key features of the new update is the Fast Search feature. We completely redesigned the way WinCatalog uses the search index and now it works five times faster in comparison to the latest version and results appear immediately when WinCatalog finds them.
Each modern computer has several processors, and now WinCatalog uses them all when searching. The best performance may be achieved when the catalog file is stored on an SSD drive, however, regular hard drives can also show high performance.
This feature is optional and turned on for all catalog files. Catalog files created with a previous version of WinCatalog will be automatically adjusted on the first run. Click to expand or collapse video.
Multiple Main Tabs

Another cool feature of the new update is the ability to open more than one Catalog tab at a time. Previously any number of search tabs could be open, but only one catalog tab was allowed. Now you can open the same or different catalog folders in different catalog tabs. If you didn't see it in action yet, please watch a short video or just download the latest version and try it by yourself!
Click to expand or collapse video.
Search rules updated
The new version brings the updated search rules, the search now is more natural than previously. Try one or a few word search terms without any search operators or wildcards to see how easier it is now to find your files, or use quotes and search operators to refine your searches. The full explanation of the search rules is located in the manual (here).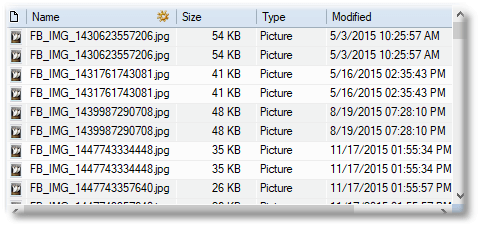 A lot of UI improvements
The new update contains a lot of small UI improvements: highlighting alternate rows in the grid view, the ability to adjust sizes of the columns by double-clicking the column divider, highlighting duplicated groups in search results when searching for duplicates, and others.
The size of the new catalog files was decreased
Previously WinCatalog uses the UNICODE characters for storing data in the catalog which required 2 bytes per each character. All catalog files created in WinCatalog 2020 use the UTF-8 encoding. It still allows having all the national characters in the catalog but allows to reduce the size of the catalog file because most of the filenames consist of Latin characters (and UTF-8 requires twice less space to store Latin characters).
And since the search feature was redesigned, WinCatalog does not maintain an internal search index anymore. Getting rid of the internal search index may decrease the catalog file size to 7-15% or in some cases up to 30% depending on the content type.
Upgrading to WinCatalog 2020
WinCatalog 2020 is available as a free upgrade to everyone who purchased a license to WinCatalog 2019 (meaning a full 2019 version, not an upgrade from a previous version), or a Lifetime Major Upgrades option, or the upgrade to WinCatalog 2019 within the last 6 months from the release date (starting from May 1st, 2020).
Others can purchase an upgrade to WinCatalog 2020 at a special upgrade price with a 50% discount. To check your upgrade status, please click here.
Downloading WinCatalog 2020
To download the latest version, please click here. You do not need to uninstall a previous version of WinCatalog before installing the update, just install WinCatalog 2020 over any older version you have and it will continue smoothly.
We'd love to hear from you!
All the new features and improvements were implemented by collecting your feedback: you asked for it - we implemented it!
Please don't hesitate to share your feedback thoughts with us, we're always happy to receive positive feedback and constructive critique. Please use the feedback form to contact us!
Posted on: November 19, 2020