WinCatalog 2021.4 Release
Hello, we're glad to announce that the new version of WinCatalog was just released. The version number is 2021.4
The update adds a new data source for Audio CDs: in addition to MusicBraiz.org, GnuDb.org is now available (unfortunately, without album covers, because GnuDb.org doesn't have them but with the ability to select from several results if multiple entries are found in the database). Now you can select one out of three options: MusicBrainz.org, then GnuDb.org if found nothing in MusicBrainz. This option is the default out of the box. Two other options restrict WinCatalog to use MucicBrainz.org only, or GnuDb.org only.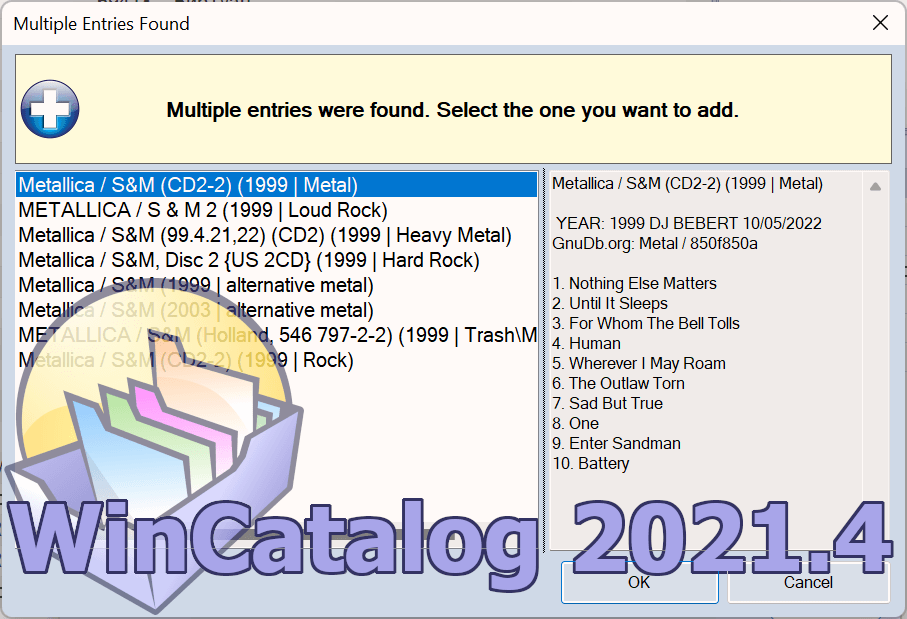 A bug was fixed when it wasn't possible to save scanning profiles imported from .json files.
The "end of the scanning process" sound was returned back (but turned off by default). This option was removed in the 2021.1 version based on feedback, but after making the changes, we started to receive requests to add it back. So, now this option was added back and includes now four different sounds: a Tibetian Gong, two melodies, and the classic Ta-Da sound. Of course, the option isn't limited by these four sounds, and you can use other sounds you have.
Korean translation was actualized.
Download
To download WinCatalog 2021.4 please click here. You do not need to uninstall a previous version of WinCatalog. Just install the latest version over the existing one.
Posted on: July 8, 2022