WinCatalog 2020.2.8 Release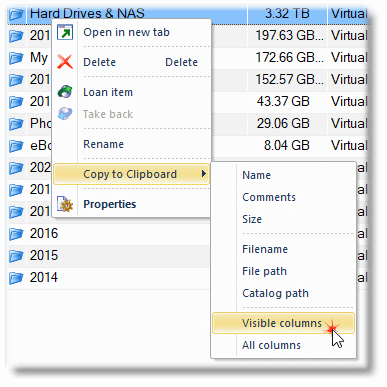 Hello, we're glad to inform you that WinCatalog 2020.2.8 was released.
The new update adds the Album field from ID3 tags to the external search index (needs the Search Index to be rebuilt) and the ability to copy names, paths, and other fields to Clipboard directly from the main grid view.
The following issues were fixed.
The type of some data CDs was incorrectly detected as Audio CDs.
A system sound was produced when closing search tabs.
An issue in the search logic was fixed when the European-style date-like search term was used (for example, "18.12.2020") enclosed in double-quotes.
The issue fixed when WinCatalog ignored the Album Cover option for Audio files and always grabbed covers even if the option was turned off.
File Operation Queue displayed empty entries after processing the queue.
Other minor fixes.
Download
To download WinCatalog 2020.2.8 please click here. You do not need to uninstall a previous version of WinCatalog. Just install the latest version over the existing one.
Posted on: December 18, 2020