WinCatalog 2019 Release 19.6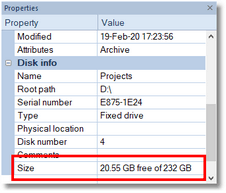 Hello, we're glad to announce that the new version of WinCatalog was released. The version number is 19.6.
The new version adds an ability to prevent the computer from entering sleep while the scanning or the updating process is running. This option may be turned on or off individually for each scanning profile. It is turned on by default.
The Properties panel now displays disk size in the Disk Info section using the classic File Explorer like format: "20.53 GB free of 232 GB".
Czech, French, Greek, Italian, Polish, Spanish, and Swedish translations were actualized.
Download
To download WinCatalog 2019 version 19.6 please click here. You do not need to uninstall a previous version of WinCatalog. Just install the latest version over the existing one.
Posted on: February 21, 2020