Hello, we're glad to announce that the new version of WinCatalog was released. The version number is 19.5.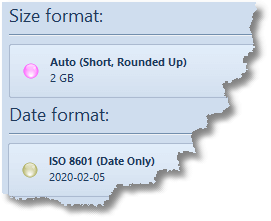 The new version adds an ability to configure how WinCatalog displays dates and sizes everywhere, including the Reports. Click the Gear button in the Name column header to configure Dates and Sizes formats in the main window. As previously, the Report Generator should be configurated by clicking Reports.
EXIF from any image. Previously WinCatalog grabbed EXIF tags from images with .jpg extension only. Now it tries to grab EXIF tags from any image file (except types with knowingly no EXIF tags like PNG or ICO).
The support of the compressed RAF files (RAW Image files produced by Fuji cameras). Now WinCatalog can process the compressed RAF files (the uncompressed files also work well).
An issue fixed when the scanning process could fail on inability to delete a temporary file while processing RAW files.
Download
To download WinCatalog 2019 version 19.5 as a full package please click here. You do not need to uninstall a previous version of WinCatalog. Just install the latest version over the existing one.
If you already have WinCatalog 2019 19.4.1 installed to your computer, you may download the smaller package (7.5 MB) containing only the modified binaries. This package requires WinCatalog 19.4.1 to be installed on your computer.
Posted on: February 5, 2020