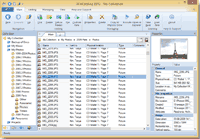 WinCatalog scans your disks, remembers all the folders, files, and some additional information about your files such as ID3 or Exif tags, thumbnails for pictures, contents of the archives and ISO files, parts of text files, tags from saved web pages, etc.
The main purpose of WinCatalog is to give an ability to browse and search through your catalog even if the original disks and files are off-line.
For example, your files can be located on a removable hard drive, on a shared network folder, or burned on a CD, DVD, or a Blu-ray disc and you will still have the ability to find files with WinCatalog and even preview their properties, including picture thumbnails, before inserting or connecting any disk to the computer.
Otherwise (if you do not use WinCatalog), in order to find a file you would need to connect disks or insert media one-by-one to find a specific file.
In other words, WinCatalog saves your time and efforts in finding files wherever they are located.